IE3 Premium Efficiency Cyclo Gear motors from Varitron
Varitron proudly introduce our Cyclo Drive series now available with IE3 Premium Efficiency motor options.
A winning product range
Not all motors are the same. This is especially true when it comes to introducing IE3 motors, which will be compulsory from January 2015 Europe.
There are many factors and criteria to consider, besides pure performance and energy efficiency data. IE3 Premium Efficiency motors from Varitron win in all of these areas: they are absolutely reliable, extremely sturdy and their well thought-out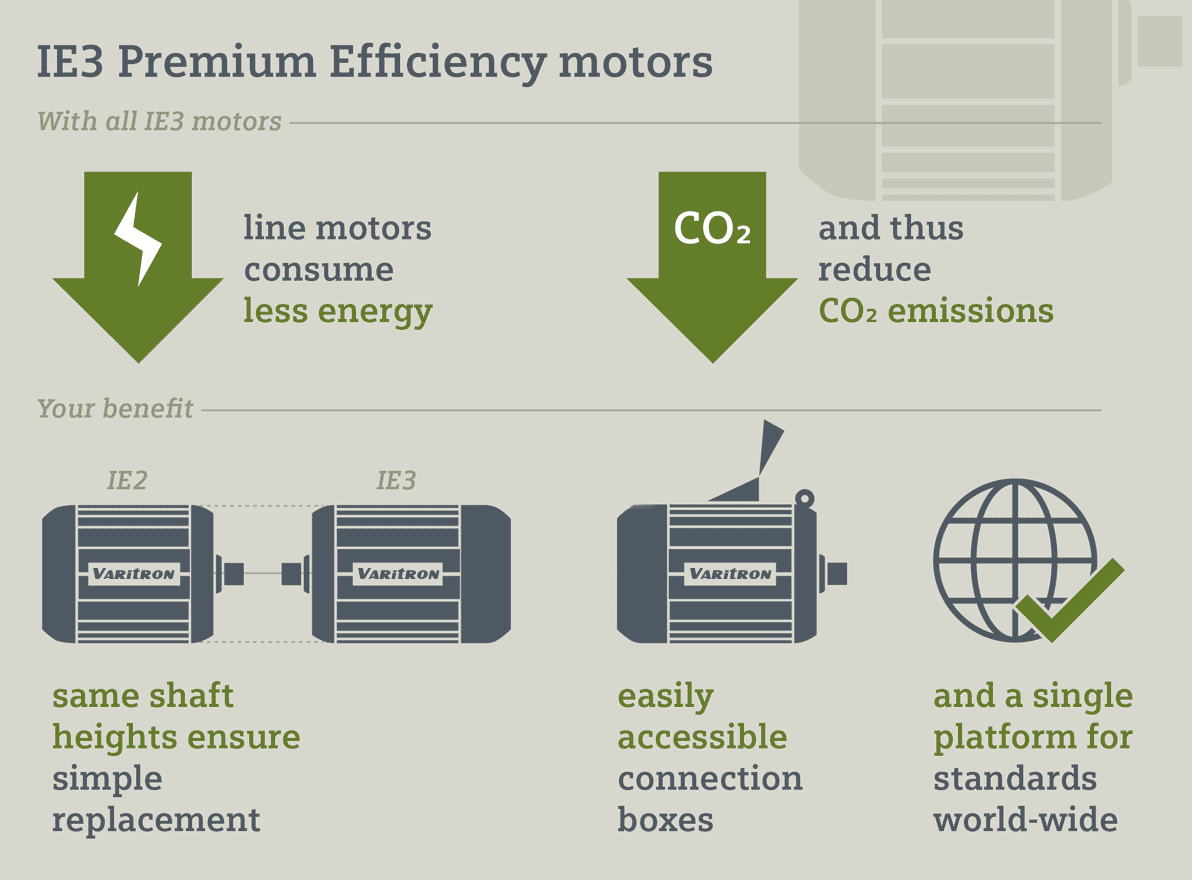 Sophisticated technology that pays off
Opting for IE3-compliant asynchronous motors means you can expect total reliability, long life and maximum robustness. And that means your investment is safe. In many cases, too, switching to IE3 will not require any change to the mechanical construction of your machine, because motors from IE1 to IE3 retain the same shaft height. That saves engineering and retrofit costs – and of course using IE3 Premium Efficiency motors from Varitron will make a noticeable saving on your electricity account.
Premium Efficiency – IE3 will become mandatory in Europe
Standard IEC 60034-30 defines the energy efficiency classes for asynchronous motors. Regulations (EC) 640/2009 and 04/2014 establish the conditions for the conversion to the new energy-efficient technology. IE2 has been in place as the minimum efficiency since 2011. The second stage will now take effect as of January 1, 2015. Only motors in the power range from 7.5 to 375 kW complying with Energy Efficiency Class IE3 will be permitted for line operation in the European Economic Area from that date. This is a legal requirement.
Always the right choice
Premium Efficiency motors from Varitron are available in countless standard versions from 1HP (0.75 kW) to 125Hp (90 kW) – just right for all applications in the manufacturing and processing industry.
IE3 und CO₂-emissions
The IE3 standard represents a contribution to a comprehensive, EU-wide package of measures intended to reduce CO₂ emissions by 20% and increase energy efficiency by 20% between now and 2020.
Design
Innovative rotor technology makes IE3 motors extremely compact. They come with the same shaft height as IE2 motors, which means the mechanical interfaces to the assembly remain unchanged. Because the improved efficiency rating can often be achieved using the same housing, there is no need to change the mechanical structure of the machine in many cases.
Advantages
Besides lower energy consumption, IE3 Premium Efficiency motors from Varitron offer these winning features:
•Easily accessible connection boxes
•Unchanging shaft heights and the same housing in many cases